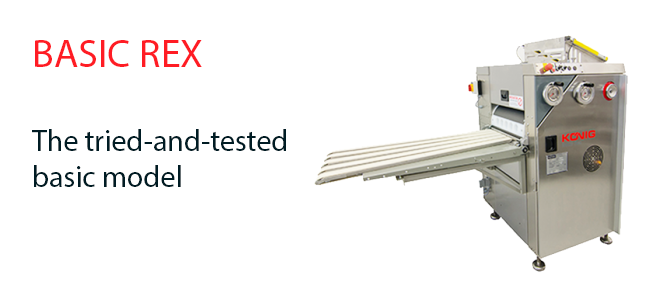 Description
MAIN FEATURES
Based on the "Rex" technology that's gentle on the dough, the Basic Rex divides and rounds dough pieces in 6-, 5- and 4-row versions. The tried-and-tested head machine obtains an hourly capacity of up to 9,000 pieces.
gentle operation according to the Rex principle
6-, 5- and 4-row machine versions
easy change of row number possible
capacity of machine continually adjustable from 12 to max. 25 strokes per minute
simple operation via handwheels
simple dough supply via chute hopper with safety light-grid
optionally available with spreading finger belt or discharge belt
net weight approx. 800 kg
power supply: approx. 1.5 kW
Stainless steel cladding
Weight range Number of rows Piston size Max. hourly capacity
15-40G 3\4\5\6 SK 47 4500/6000/7500/9000
22-55G 3\4\5\6 SK 51 4500/6000/7500/9000
25-65G 3\4\5\6 SK 54 4500/6000/7500/9000
35-85G 3\4\5\6 SK 58 4500/6000/7500/9000
50-110G 3\4\5\6 SK 63 4500/6000/7500/9000
52-115G 3\4\5\6 SK 65 4500/6000/7500/9000
55-125G 3\4\5 SK 67 4500/6000/7500
60-135G 3\4\5 SK 70 4500/6000/7500
The dough is filled into the hopper.
Optimised dough portions (depending on the single weight of the dough pieces) are conveyed into the dividing area by means of rotating star rollers (dough feeding stars).
The horizontally moving slider presses the dough into the opening of the dividing drum. The excess quantity of dough is conveyed back to the dividing area by a scraper ledge.
After an anti-clockwise rotation by 90°, the rounding of the dough pieces is performed by an oscillating rounding plate. Depending on the dough consistence and dough weight, the rounding eccentric can be adjusted.
After another 90° rotation, the dough pieces are transferred to the discharge belt.