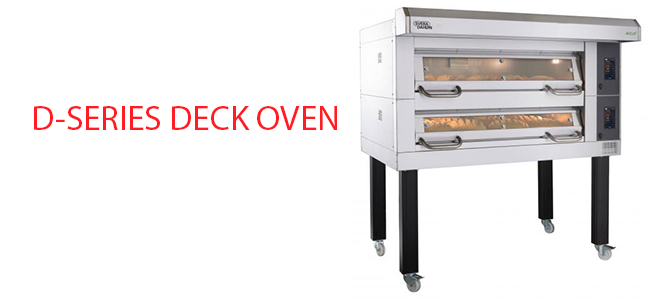 The optimized deckoven D-Series gives you a variety of sizes and configurations to choose from. It is available in five standard widths, suited for most sizes of baking trays. The flexible module system makes it possible to add on decks later. The oven can be equipped with an underbuilt prover and a lot of other options. Also available as energy efficient eco+.
The D-Series is a precision built oven.
Adaptable to most bakeries. Bakes both confectionary and bread.
Available in five basic sizes and adaptable to most bakeries. Standard crown height 160 mm, optional height 220 mm available.
Precision-built oven doors, which gives the door a smooth action and ensures convenient and safe handling.
Effective working halogen lighting. Provides whiter and more intensive working light than standard bulbs.
Reliable heating elements. Turbo function. Heats up the oven quickly to the set temperature. Specially selected for relability and rapid response.
Can be delivered with underbuilt prover with sliding glass doors (option). The inside is built completely in stainless materials to ensure a long service-life, simple cleaning, and low maintenance costs.
Very user friendly SD-Touch control panel panel with many features (option). Self-instructing with menus such as manual baking preprogrammed baking and service parameters. The panel is easy to learn, easily accessed and very logical.
Each oven section can be individually controlled with separate settings of the top, bottom and front heat. Gives full control in the baking process.
High quality door gasket and well insulated oven chamber. Keeps the heat inside the oven.
Stainless steel front. Maintains low temperature and is easy to keep clean.
A range of options such as steam generator, condensation unit and stone hearth.
Including aluminium legs with adjustable feet.
Dual temperature sensors.
Tray grid as standard.